Sedona is a gorgeous little town surrounded with red rocks known around the world for its unique beauty and special energy. These special places where you can feel strong energy are called vortexes in Sedona. Many spiritual pilgrims come to Sedona to experience mystical power of her vortex sites every year.
Sedona is nested at the mouth of Oak Creek Canyon which has some of the most breathtaking views. Indeed, it is one of the most beautiful places on Earth.
Beauty of red rocks, healing waters of Oak Creek along with mystic power of local vortex sites make Sedona a spiritual Mecca.
Very often our guests report seeing colors (some for the first time), Native American spirits, angels, or feel a spinning motion when we take them to vortex sites on our vortex tours.
Danil and I had many mystical experiences out on the vortex sites that really changed our lives. Praying and meditating on various vortex sites of Sedona we received guidance and clarity about our life purpose. Sometimes it seemed that doors of new opportunities opened up and we were shown a miraculous way out of difficult situations.
I had my first past life recollection on one of the ancient ruins here in Sedona. It was a big surprise and yet so vivid. That experience helped me understand myself better and connected many dots of my personal spiritual quest.
Another powerful experience was with a spirit named Admeos who was kind enough to share some of his secrets about this area and interesting information about ancient space travel and portals. You can read my post about that adventure here.
Some vortex sites have such a strong loving pulse that it makes you feel heard and loved. When you bring your prayers there with a pure heart, you can trust that they will be answered.
People often ask me on a vortex tour if I still have the kind of an amazing vortex experience they are having after doing tours for almost a decade. And I tell them that Sedona vortex never gets old or boring. It is uplifting and unique every time.
It is best, however, to drop all expectations and just allow yourself to experience her magic in whatever form it may take.
Remember that You are the antenna that is capable of attuning to and receiving messages that you need to hear from behind the veil. Trust that everything comes when you are ready in perfect Divine order.
And another thing to keep in mind is that sometimes people don't feel much at vortex sites but receive a powerful activation here and things start "unfolding" in a mysterious way when they get home.
Red Rock Country of Sedona
Magnificent land of sunshine, Sedona is located in Arizona's high desert at an elevation of 4,500 feet (1,400 m). It welcomes you with four mild seasons that make it a perfect vacation destination all year round.
People from all over the world come here to rejuvenate, recharge their batteries, and enrich their souls. One way or another, Sedona uplifts and moves every visitor. Beautiful red rock country offers more than 300 miles of hiking trails of various difficulty levels giving so many options to explore. And phenomenal views are guaranteed on any hike.
Weather in Sedona, Arizona
There are a lot of warm sunny days in winter here – great for day hikes. Occasionally, snow gently dusts red rocks, giving them a more spectacular magical look. Fresh breath of spring brings new life to many plants and trees. It is celebrated with vibrant colors of wildflowers, blooming cacti, and lush greenery.
Daytime temperatures rise up to mid-nineties towards summer. It is a dry heat that fades away with sunset. Then thundering monsoons come to rescue in July, marching their way into fall.
Fall brings a gift of cooler air and wraps Sedona in fantastic array of colors. Sometime in November winter starts her lullaby and many trees fall asleep. Yet Sedona stays green with the grace of the evergreens: junipers, yucca, cacti, sumac and pine trees that decorate her elegant attire.
Sedona has been a sacred place for many tribes such as Hopi, Yavapai, Apache, and Navajo for many centuries. Many still do their ceremonies here. This holy land is abundant in legends. There are a lot of ancient dwellings, pictograph and petroglyph sites in the area.
City of Sedona was established in 1902. It was named after Sedona Arabella Miller Schnebly, wife of Theodore Carl Schnebly, Sedona's first postmaster. What is really interesting is Sedona was a completely made-up name given to her by her mother. At that time Oak Creek Canyon was known for its apple and peach orchards.
In 1902, when the Sedona post office was established, there were 55 residents. The population of modern Sedona is approximately 10,000 within city limits and about 16,000 people with all of the surrounding subdivisions. It feels inaccurate though if you visit Sedona during busy holidays J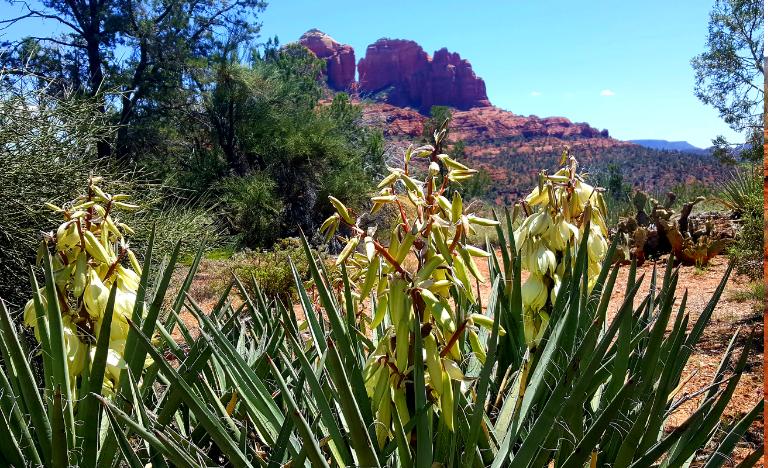 Tips for Best Sedona Visit
👉 Unless you like to hike among crowds of other spiritual seekers or getting stuck in traffic for an hour or so, try to avoid visiting Sedona during busiest times such as spring break, Easter weekend, and Labor Day weekend.
👉 Don't even think about going to Devil's Bridge or Slide Rock State Park during that time. They get way too crowded. We've noticed that many visitors of Slide Rock park don't like to use bathrooms there. Every summer levels of E. coli in Oak Creek skyrocket. This is the reason why locals swim with care below Slide Rock and never with open wounds or cuts and never drink water from Oak Creek.
👉 Drink plenty of water while you are here. It is a dry climate and it's easy to get dehydrated. We lose about 2 liters of water a day just by breathing alone. That's before you even start sweating. So take hydration seriously. Take electrolytes.
👉 If you decide to explore our beautiful Red Rocks on your own and climb somewhere, always think how you are going to get down first. People get stuck high up all the time and end up having to be rescued.
👉 Use your heart, not your mind, as your compass to find the best vortex site in Sedona.
👉 Stay on designated trails – don't bust the biological soil crust. Watch where you are going – yes, we have rattlesnakes here. They are shy creatures and they use the rattle to warn you of their presence. Pay attention and respect all life here in this fragile but beautiful desert environment. Keep Sedona clean and take care of this land like it's yours even if you are here for a short visit.