Experience Sedona Vortex with
One Tribe Tours
Recharge your batteries with powerful healing energy on our Sedona vortex tours and retreats. You are in the right place if you are looking for a unique, unforgettable, and authentic spiritual experience of Sedona. We will be happy to share with you our favorite magical and mysterious places of Sedona. The joy of tapping into her incredibly healing vortex energy is beyond words and this is what we are excited for you to experience.
When Your True Essence Shines, We Shine Together and Heal Our Human Tribe
Our private customizable vortex tours can include vortex hikes, meaningful ceremonies, energy healing, Kundalini Yoga out on the vortex sites, and guided meditations.
You will also learn about local geology, history, flora, and fauna.
Spectacular Sedona views, refreshing herbal tea, organic cookies and chocolates are included in each tour! We share the best we have with our tribe ❤️
We love to customize our Sedona vortex tours and retreats to your unique spiritual goals and physical needs.
We are all one tribe of many colors. We might be all very different in so many ways. Yet we are all in this together. We are all a part of this one Earth – in the same way as all animals and plants are.
All life is sacred.
Love is beyond borders, beyond limitations, beyond any differences.
We are all One. We are all interconnected. We are all a part of this Universe.
We are all a part of this Creation. We are this Creation.
We are all Divine beings slowly awakening to our unlimited potential.
In this process of awakening we crave harmony within and without more than ever before. We are shedding the skin of the Old Paradigm.
After living in New York City for many years, we realized that we can run this marathon only for so long before it steals our peace of mind and takes a toll in many areas of our lives. Making escapes from that busy noisy world to find our peace and balance within in Sedona became our soul-soothing medicine…
Sedona vortex sites were those special places where we found courage and inspiration to move forward.
Our experiences in Sedona were so profound and inspiring that we wanted to create something similar for others.
Following our inner guidance, we founded One Tribe Tours in 2011 and started helping our brothers and sisters realign with inner balance to become resilient and radiant.
Sedona
vortex spots help this transformation happen incredibly fast.
Nature is our church where we welcome all to heal and restore.
We are all Divine beings having a physical experience. Integrating Divine with physical is the key.
Deep in our hearts we know how important it is to be accepted, seen, and heard without judgment, unconditionally.
This is what we do so passionately on our tours and retreats – we hold space for you with compassion so you can safely unwind, release all your stress, and reconnect with your beautiful inner essence.
When your true essence shines, we shine together and heal our human tribe.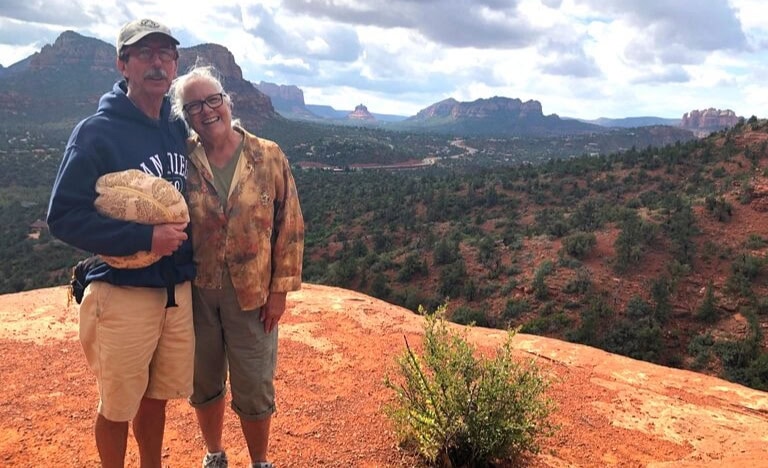 Over the years, we have developed effective techniques that allow people (even with no prior experience) to safely tap into Sedona vortex field. After years of leading our guests on their vortex adventures, we find that incorporating elements of Kundalini Yoga along with Earth healing and guided meditations is incredibly effective. This is what we do on our tours and retreats. Each experience we create is as unique as you are.
We will be happy to assist you on your spiritual pilgrimage in beautiful Sedona. It is a perfect place to slow down, declutter your mind, and synchronize your whole being with your heart. Let us take you to the most powerful Sedona vortex sites where you can find peace and clarity and align with your Divine guidance.
We Are Recommended on TripAdvisor
Explore mystical side of Sedona off the beaten path on our private Sedona Vortex Tours. Whether you need to recharge your batteries, find inspiration and clarity for your next chapter or want to reconnect to your inner peace and harmony – we have a tour for you…
Sedona Spiritual Retreats
Bring big positive change into your life with the catalyst power of Sedona. Sedona spiritual retreats are a perfect way to nurture your soul and heal on a deep level so you can have a fresh start, full of energy, joy, and radiance…
Dan is clearly doing what he was put on earth to do, which is an incredible thing to be around. Infinite gratitude to Dan for taking my bridal party to the vortexes of Sedona wilderness for meditation and healing exercises, keeping us fed with delicious, healthy meals, and providing an all around wonderful experience. I could not recommend Dan more highly - if you want to experience Sedona, go on a tour with Dan!
... My teenage kids & I had such a beautiful and memorable day. Daniel took us to several of his favourite spots where we hiked, explored, enjoyed yoga in/on an amazing location, and he also led us in meditation. Spending the day with Daniel felt like being on an outing with a friend. The combination of Sedona's beauty and Daniel's knowledge and genuine respect for nature provided us with such a remarkable experience that we will forever remember this special day.
Thank you so much for the great pics of our tour. Stephanie & I had a wonderful time & could not ask for a better guide. We sincerely appreciated the serene places you took us & the itinerary that led us on an amazing spiritual journey. Wishing you continued success.
Amazing place and great time! Dan and Irina are awesome and will give you an unforgettable experience of Sedona. We loved it and recommend it to everyone
Daniel guided my husband and I through a beautiful sunset vortex tour. He immediately engaged us with and shared his knowledge of the area. We took this tour on our first day in the area and it definitely helped us set a peaceful tone for the rest of our trip. The timing of this tour also informed us of local plants to watch for on the rest of our hikes during this trip. I highly recommend booking a tour with One Tribe Tours if you are visiting Sedona!
Join Our Tribe – Stay in Touch and Subscribe to Our Occasional Tips and Insights
Join Our Tribe – Stay in Touch and Subscribe to Our Occasional Tips and Insights